Book Review: Fight Like A Girl – Clementine Ford
I don't tend to write book reviews, but this is important. I'm not sure I've ever written one before,  so please bear with me.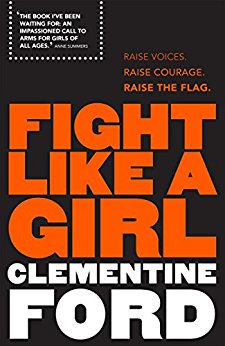 Clementine Ford's Fight Like A Girl is a book about feminism. It's about a woman who has battled sexism, body shaming, and abuse all her life, and fighting like a girl who, surviving all this, has come out the other side strong, independent, and not giving a damn what men think.
Clementine talks about the ridiculous, contradictory, and often implicit and unspoken societal expectations of being a woman, the hateful names she's called by men, who react with horror when they're laughed at in response, as if that is the worst thing that could ever happen to them. She talks about perpetuation of rape culture, and contradictory suggestions regarding how women can avoid being raped, as if it should be their responsibility.
She discusses men's assertion that feminists, particularly her, hate men so much, and how they wonder why, as she lists, extensively, the horrendous insults she's received from these men online. Several pages of this chapter, Man-hater, were such a hard slog I had to put the book aside for a week to avoid just skipping them and denying them the attention they deserve. Men can be unbelievably awful.
Eventually, I made it to the epilogue. For some reason, possibly related to the poetic way it was written, I was compelled to read it aloud, and it literally brought me to tears. I bought the audiobook, just to hear Clementine read this, and it was amazing. The first paragraph does not do it justice:
This book is a love letter to the girls. It's a letter to the bitches and the broads, the sluts and the whores. It's to the troublemakers and the rebels, the women who are told they're too loud, too proud, too big, too small.
Men, you should read this book. This book is not written for us. We are not its target audience, because if the patriarchy is to be overturned, women can nor depend on men to help, let alone lead the assault. It pulls absolutely no punches while detailing all the ways that patriarchy is perpetuated, how men can be awful, and women are second-class citizens. But this doesn't mean we shouldn't, at the very least, stay out of the way an not make things worse, and call out bad behaviour when we see it.
This book is eye-opening, and heart-wrenching, and I'd have it no other way. This book is not written for men, but you should read it anyway.
Everyone should read this book.
"This book is a love letter to the girls." And, given everything in the world whose focus is on men, so it fucking should be.